Things to consider when making your home pet friendly.
Being a pet parent is undoubtedly fun and rewarding, but it means you will have a number of things to consider when designing and moving into your new home.  That way all members of your family will be happy, healthy and well taken care of, including four-legged ones.
The most important thing is to have a good strategy in place so as to avoid potential disasters.
To achieve this, you don't need to spend a lot or add anything particularly fancy to your new home. Just consider what your pet's behaviours and needs are and tailor your design to this. If you are like most pet parents, you'll agree with the motto – "Happy Pet, Happy Home".
Here are some helpful tips to make your new home pet-friendly.
Avoid carpets or use carpets selectively
The combination of pets and carpets is bound to give you a lot of headaches. Your furry loved one can scratch and tear up the fibres leaving your carpet an absolute wreck. There is also the risk of your pet doing its business on your carpet when it's a puppy or incontinent senior. 
Their fur will also shed, meaning lot's more vacuuming. 
To avoid all this use hardwood and tiled floors as they are much more ideal when it comes to pet-friendly house designs.
Have your heart set on carpet? No problem. The best solution, in this case, is to lay carpet in selective "pet Free" rooms or rooms your pet is unlikely to visit. Or choose a carpet that's durable, easy clean and repels fur. For great carpet, options check this article out.
Rugs offer a great in-between option. They are easily added to a room, look great, offer a feeling of warmth, and most importantly can be replaced once damaged or worn out. Or you could buy your pet its own special rug. One that's just for them.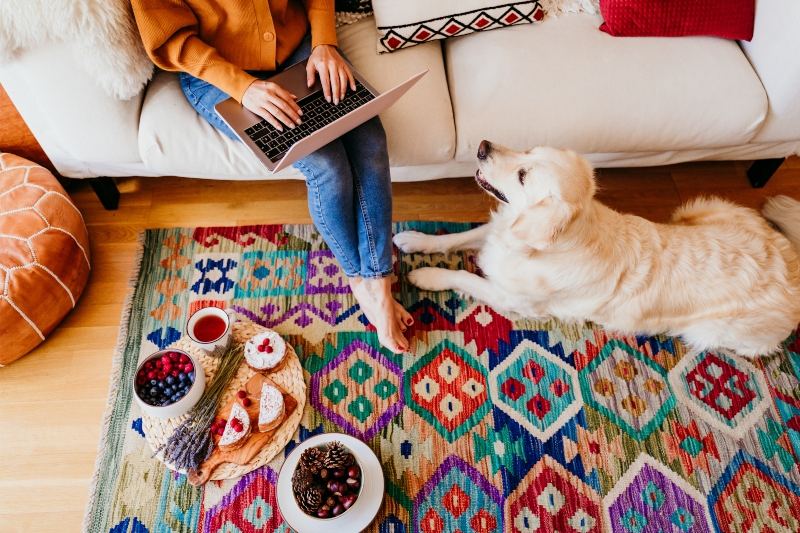 Get pet-friendly furniture
You can spoil your four-legged family member with his or her own cushion or bed. But if you dream of cuddling them on your own couch, we suggest investing in animal-friendly furniture.
Avoid tweed, velvet or silk. These materials are like a magnet when it comes to unwanted stains and odors from your pet. 
Instead, look for couches with fake leather suede or any other stain-resistant cover. Don't go for white and light-coloured covers, either. Dark-coloured furniture is better when it comes to hiding general pet use wear and tear, including stains.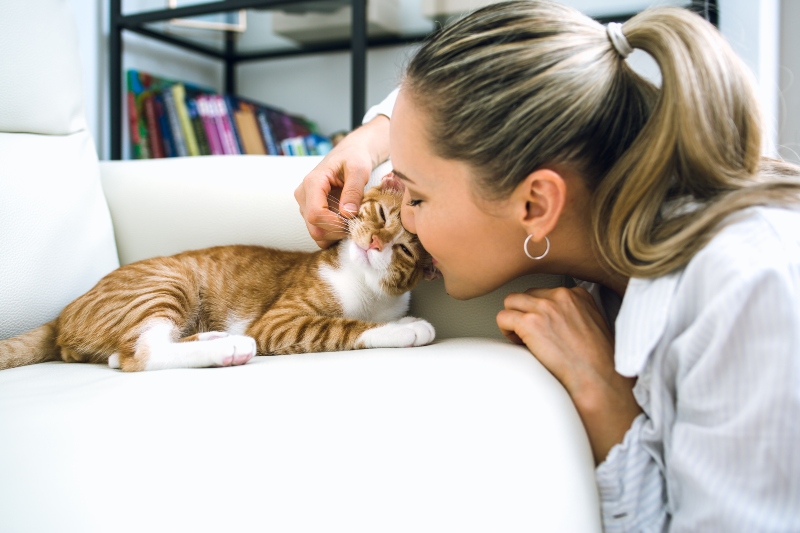 Use durable materials.
It sounds simple but doesn't forget to choose a material for curtains and blinds that are durable and up to paws and claws. A little pre-purchase research will save you a lot of money in avoidable replacement costs.
And don't forget, when choosing paint or wall coverings lean towards easy wipe-clean options as pets tend to rub up against walls and leave dirty greasy marks.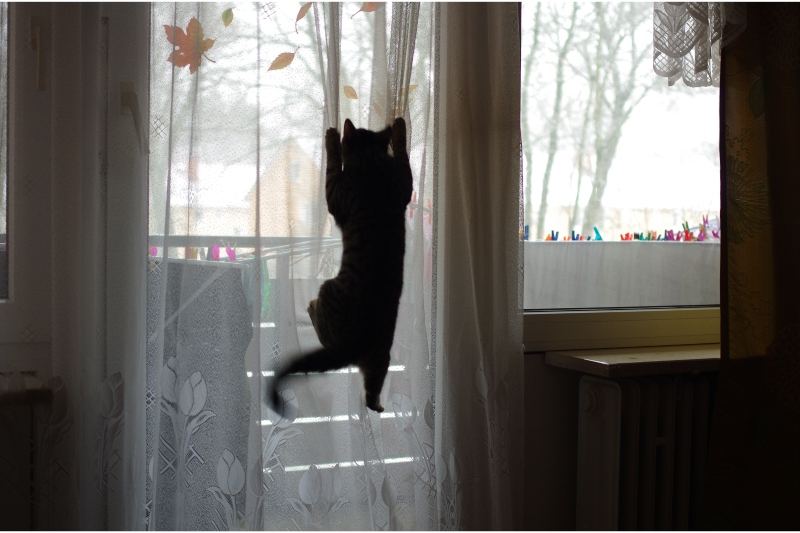 Make sure your garbage bin is hidden away or has a secure lid.
Most dogs and cats will sniff out a tasty leftover tossed into the bin and will go to some lengths to get that treat. The best approach is to design your kitchen cupboards such that the bin is hidden and therefore inaccessible to your furry ones. If that's not possible you will need to find a stylish bin with a very secure lid. The taller the better.
After all, no one wants their rubbish strewn across the kitchen floor and even worse there may be something in there that could make your pet sick. Best to be safe than sorry.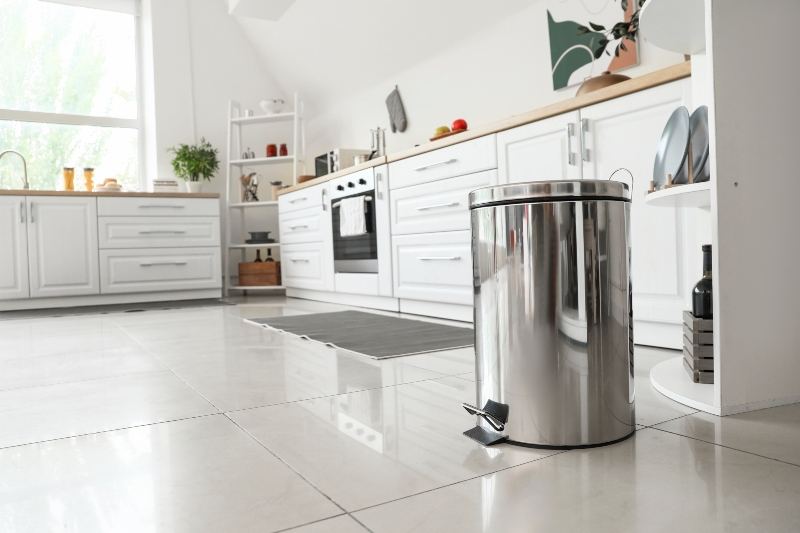 Install a pet door.
If your dog or cat is used to letting itself in and out of your existing home, you will want to have this option built into your new home. Chat to your home builder about this so they can install it at the time of the home build, saving you the hassle when you move in. Simply make sure they know which one you prefer.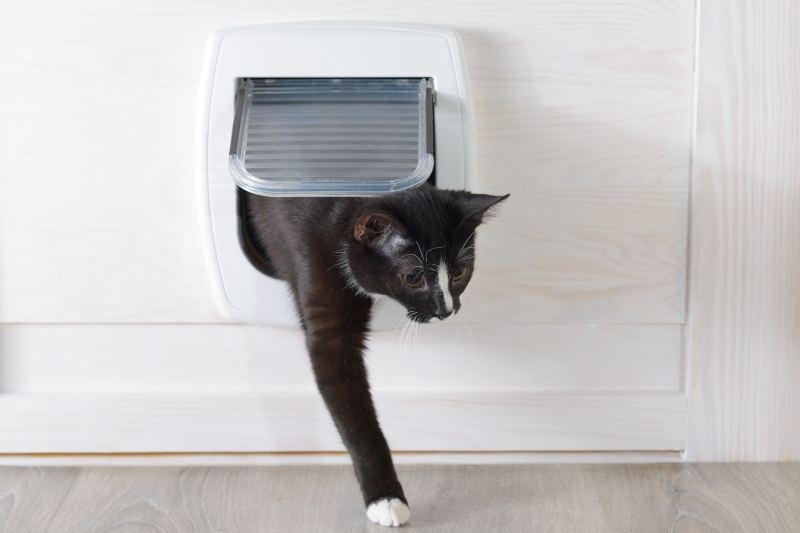 Install metal mesh screens on windows (important for cat and dog owners)
Felines tend to climb and jump around and will do pretty much anything if they're curious enough. They can be fearless and leap from high windows without a worry. 
This places them at risk of getting lost in unfamiliar new streets. 
Dogs will also go to some lengths to go exploring or may try to escape during a thunderstorm. Either way, a metal mesh screen on your windows will keep them safely contained till you come home.
Having good strong window screens goes a long way to preventing the stress of a lost pet, which is the last thing you want when moving into your new home.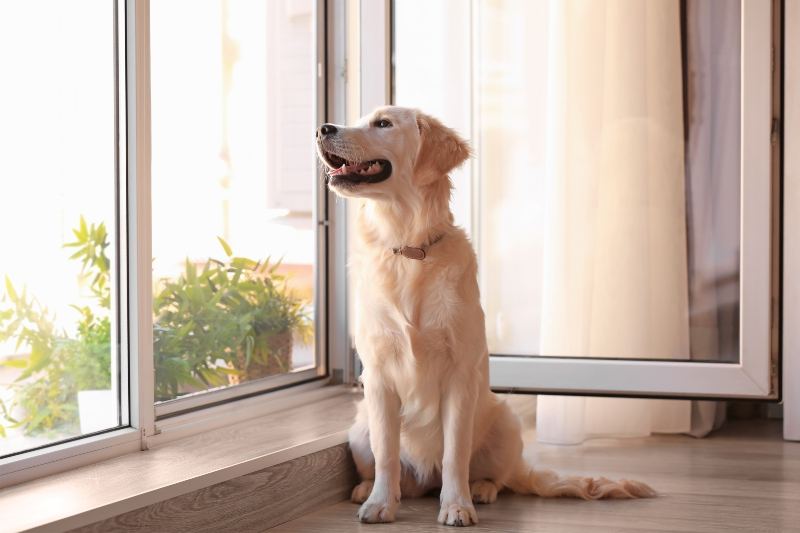 Keep precious items well away
Don't let your pet play, bite or swallow any of your prized possessions. It's dangerous for your furbaby, and you may lose some items you love. 
To truly achieve a cat or dog-friendly environment in your home, make sure precious items are out of your pet's reach. Put things in drawers or on upper shelves. Avoid displaying fragile objects like vases and framed photos. For your pictures, hang them on the walls instead.
It's also advantageous to keep your medications on a wall cabinet. The same goes for your food products, and cleaning products should definitely not be accessible. 
All it takes is a little planning, to feel comfortable and sure you've got nothing to worry about in your new pet-friendly home.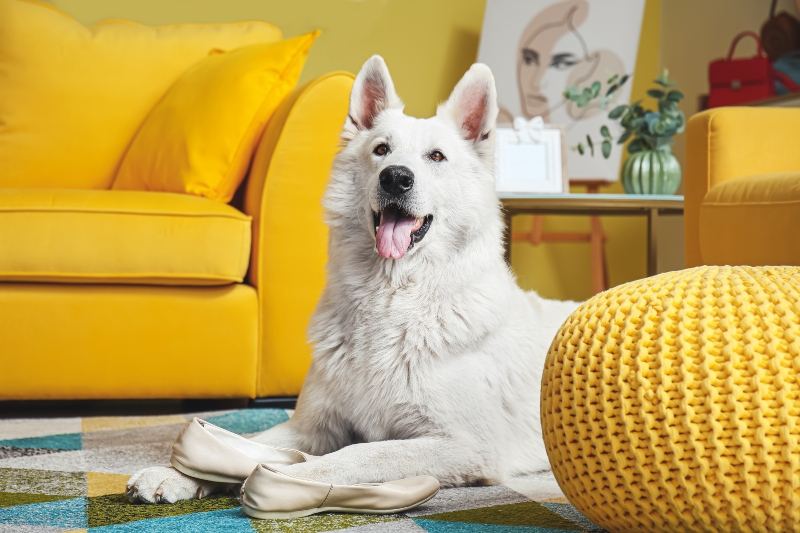 Questions?
A pet friendly home isn't that hard or that expensive to achieve. Trust us – there's plenty more tips where this came from.
Give us a call today if you're looking for a home design that's great for your furbabies. You can also read some more practical tips if you're moving with pets.