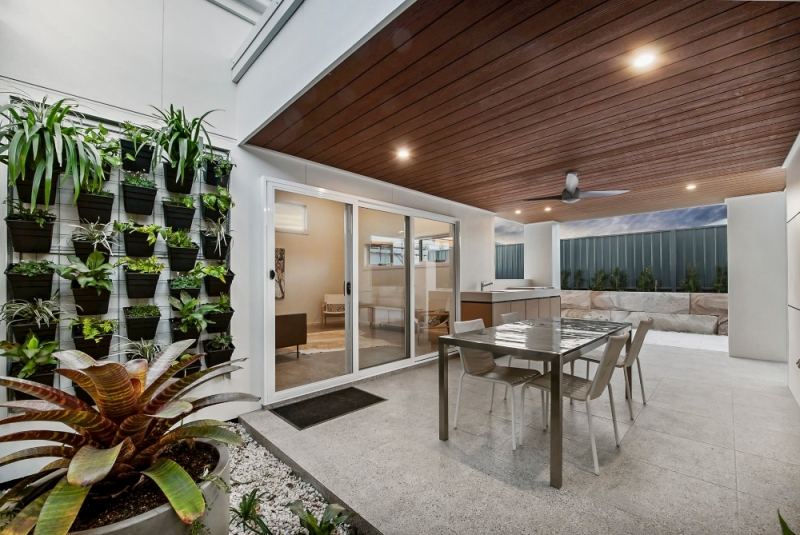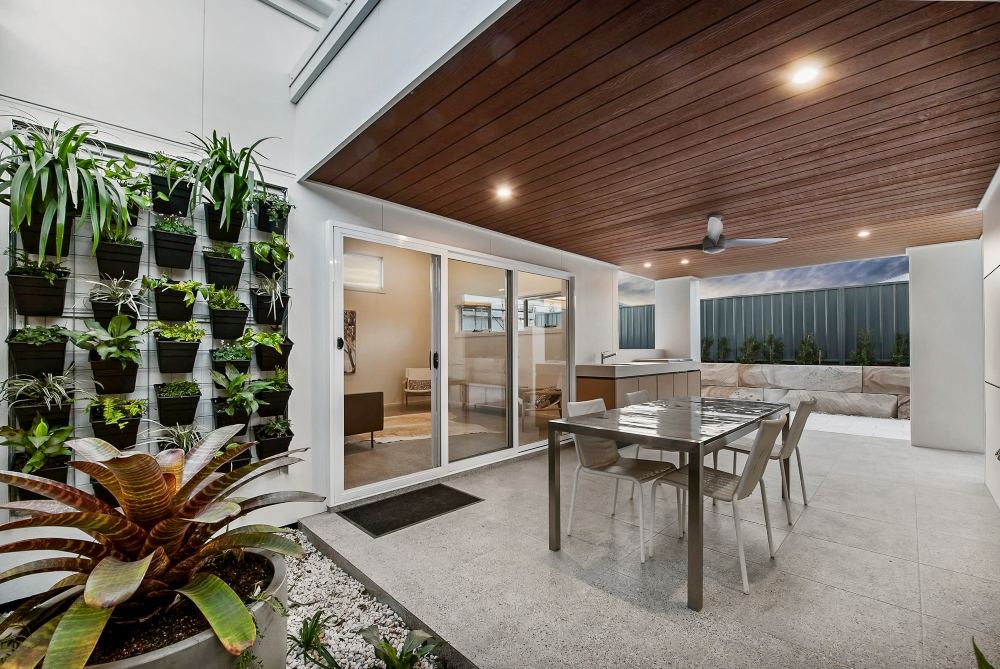 Alfresco Areas – Why You'll Love Them!
Why choose between the indoors and the outdoors when you can have both? Enjoy the best of both worlds in your new home with a fresh, beautiful alfresco area. It's an exquisite element you can add to your home design, featuring the perfect outdoor area for all-year-round entertainment or just pure relaxation.
This article will take a look at what alfresco living really is, and the many reasons why we think you'll love it. From the larger space and the second kitchen to an extra play area for kids, there's something for everyone in alfresco living.
What is an Alfresco Area?
'Alfresco' literally is Italian for 'in the fresh (air)'.
An alfresco area is an outdoor area in your home you'll be able to enjoy every season of the year – rain, hail or shine. Alfresco's act as extensions of your home. Yes, they're outside, but they're still underneath the main roof of your house. They aren't "added on" after the home design, but rather form part of the original house and roof structure.
Below, we'll outline some reasons as to why you'll love a new alfresco area for your dream home.
1. Extended Living Area
An alfresco area is essentially bringing the indoors, outdoors. You'll create a space where you and your guests won't want to leave. Add some daybeds, cushions, tables, lounge chairs, plants, wind chimes – you name it! You can do up the place anyway you like. Chillout zone, dining area, kids play area or something completely different. It's your extended living area, combining the best of inside and outside.
You're going to want to design your alfresco space in a way that's connected to the indoors as much as possible to ensure it's truly an extended living area. You can do this by having large glass sliding doors to separate the alfresco area from the indoors (rather than solid wooden doors), and also have both floors at the same level. Matching your alfresco furniture colours and style to adjoining rooms will enhance the feeling that your Alfresco area is really just an extension of your home or you can let your imagination go wild and create an entirely unique area. Both options work well.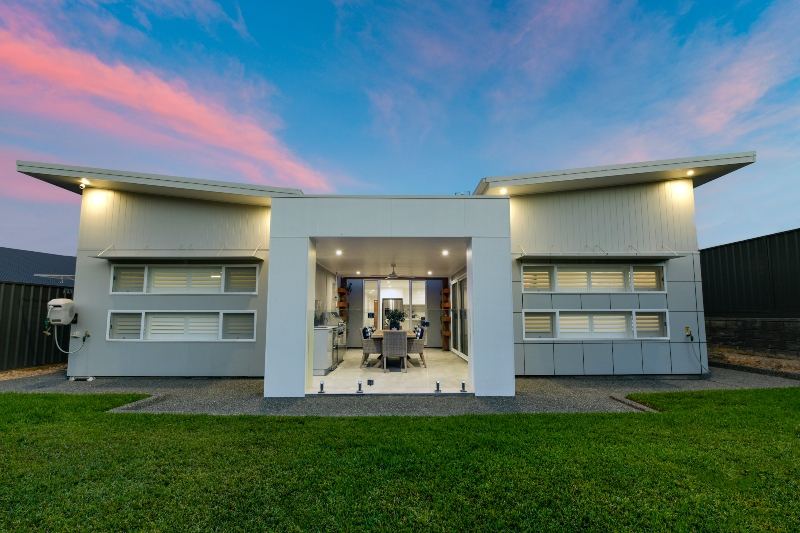 2. Wet weatherproof
As we mentioned above, an alfresco area is a zone that you can enjoy any time of the year – rain, hail or shine. Alfresco areas are completely sheltered, so you can protect yourself and your guests from the wind and rain in the colder and wetter seasons of the year.
If you're entertaining guests, the party doesn't stop if it's raining! Just move into the alfresco area, turn the heaters on and keep on eating, drinking and laughing. If you're keen for a quiet one, put your feet up, read a good book, make yourself a cup of tea, sit in your alfresco area and enjoy the sound of the rain as it pitter-patters on the roof.
All the benefits of being outdoors without any of the unpleasant bits like getting wet or battered by the wind.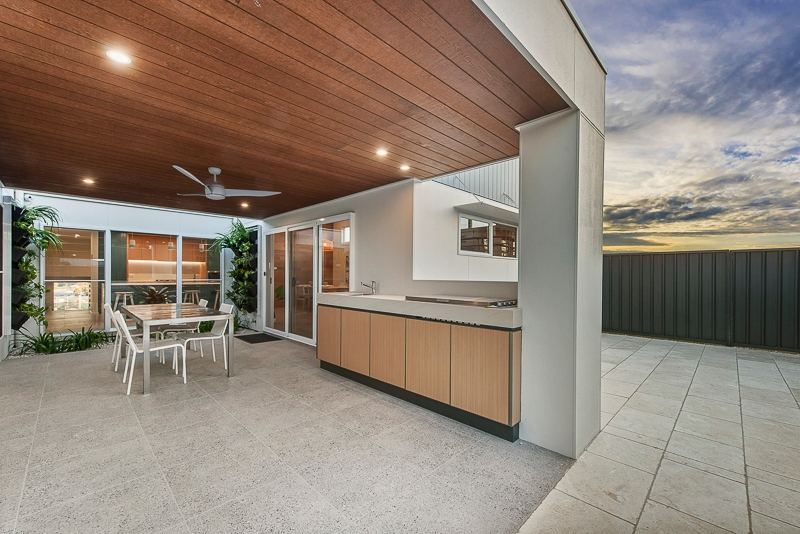 3. Second Kitchen
Another great thing about having an alfresco area is that you can make yourself a second kitchen with a comprehensive BBQ and even a Pizza Oven. You'll be able to cook alongside your family and friends during special get-togethers like birthdays and anniversaries or a simple catch up with neighbors or friends.
Whatever you celebrate in your Alfresco area it's good to know you won't be spending much time in the inside kitchen missing all the fun.
There are plenty of choices you can select to spice up an outdoor kitchen, with groovy new appliances (like a bar fridge) and stylish furniture (like a hammock). You and your guests won't ever want to leave it! Although we do recommend having your outdoor kitchen close to your 'regular' kitchen so you can race back to the fridge or get extra cutlery if you need to.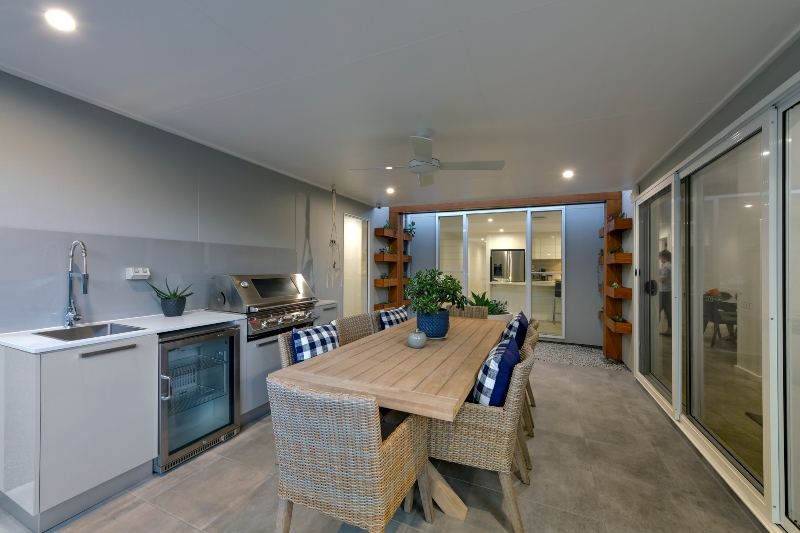 4.
Larger Space
Alfresco areas create more floor space, making your house seem a lot bigger than you might think.
If you want to use your alfresco area as an entertainment hub, you'll want a space large enough to it tables and chairs, your outdoor kitchen, barbeque, bar fridge or whatever else you'd like. We believe bigger is better, especially when it comes to large family get-togethers or a New Year's Eve party.
If you're using your alfresco for a chillout lounge, maybe you'll need extra space for one or two daybed sofas, a chair and perhaps a stylish low table for coffee or a glass of wine.
For all of the above, we'd recommend at least a 3×4 metre space.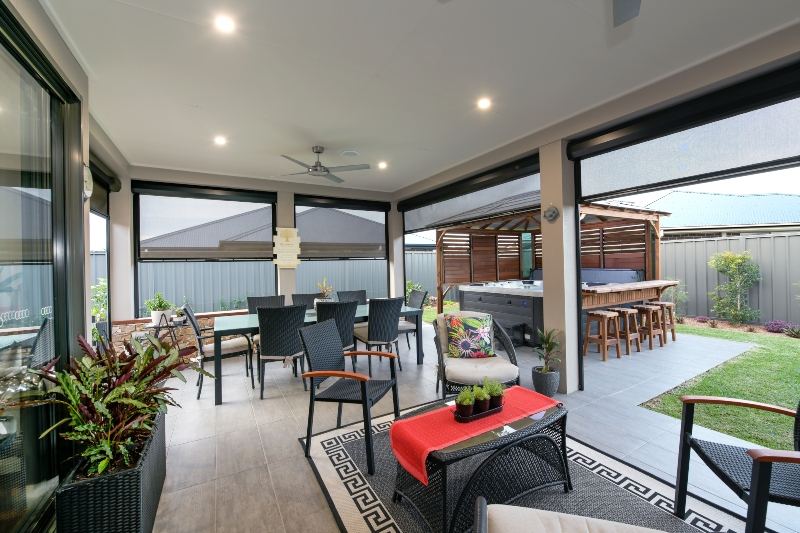 5. Hanging Gardens
You'll absolutely love your alfresco area if you place hanging gardens on your walls. The great things about these beautiful features include:
Purify the air around you, converting all the carbon dioxide into oxygen;

Improving your good vibes,

as

clean air leads to reduced headaches and

more energy.

Making your alfresco area look awesome! You can

fill

your hanging garden with all kinds of amazing plants and flowers, making your outdoor/indoor area the best place in your new home.

They're super low maintenance and easy to maintain.

Ability to change the type of plants when you feel like a change.

Fill with herbs and you'll always have some on hand when whipping up a delicious dinner.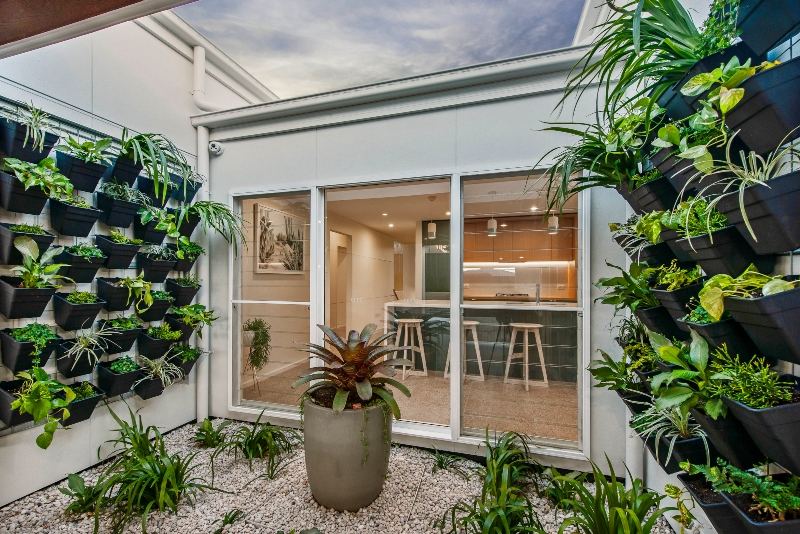 6. Outdoor undercover kids' area
Another great idea for your alfresco area is that you can turn it into an outdoor undercover area for your kids to play in. If they're young, you may want them to spend time outdoors but still want them close by. An outdoor undercover area is perfect for just that.
If your Alfresco area is big enough, you can even create a play space with lots of toys your kids will love. Or add a small slide for your kids to play on, or a plastic car or bike so your kids can 'drive' themselves up and down the area or round and round the outdoor dining table. There's plenty of fun to be had for your kids in a wide-open alfresco area. And the best bit – if it's a rainy day they'll still be having just as much fun.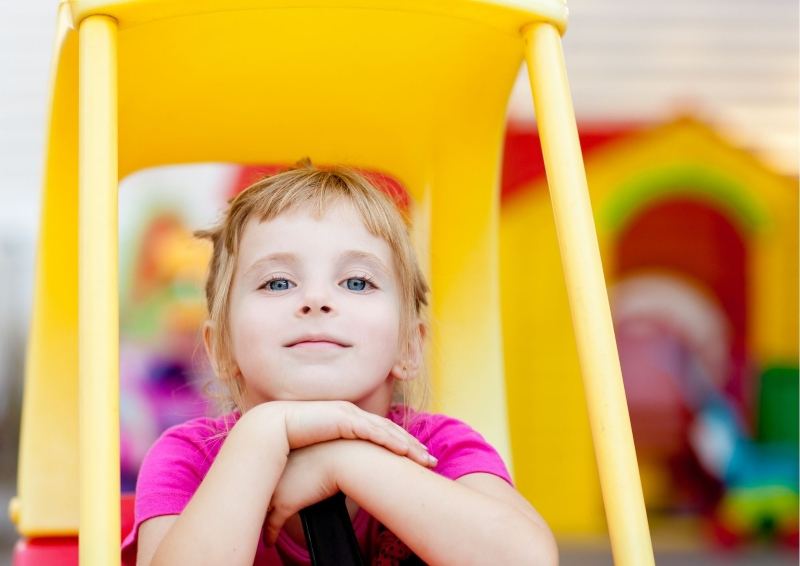 Thinking about an alfresco area for a project home in the Hunter Region?
Here at Hunter Designer Homes, we offer a range of stellar project home designs featuring large amazing alfresco areas. The best thing about it is that all you have to do is select the home design, find the perfect block of land, sit back and then wait for us to do all the work in making your dream home (and alfresco area) a reality.
We specialise in designing project homes for the Hunter Region, so if you're looking to settle in a dream home around Lake Macquarie, Maitland, Newcastle, Myall Lakes, Swansea, Wallsend or Wyong, give us a call today and we can start thinking about what you want your dream home to look like.